Holograma lui Ronnie James Dio ajunge la Bucuresti la Arenele Romane (cort incalzit) pe 17 decembrie, alaturi de membrii Dio Disciples! Show-ul face parte din turneul international "Dio Returns"! Printre muzicienii care vor urca pe scena se numara Craig Goldy, Tim"Ripper" Owens, Bjorn Englen, Simon Wright sau Scott Warren!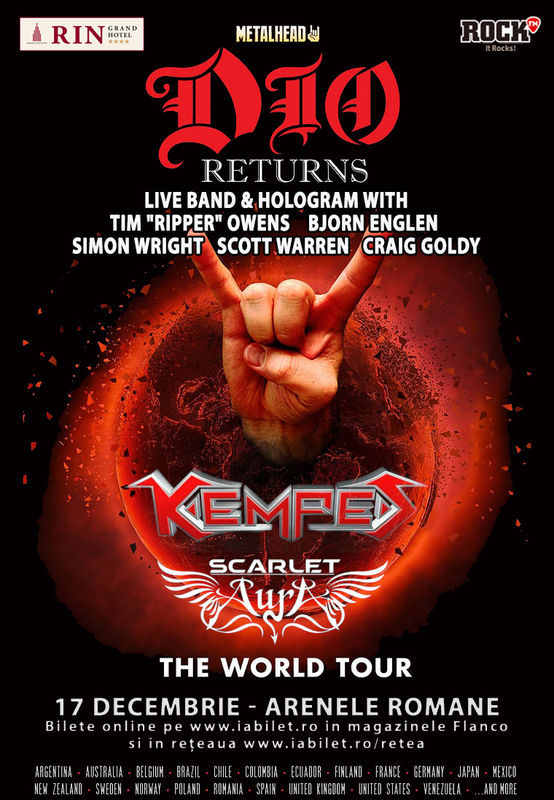 Concertul va fi o premiera pentru scena rock din Romania, mai ales ca holograma legendarului solist va canta alaturi de o trupa live pe scena Arenelor Romane !
Turneul trece prin tari precum Finlanda, Suedia, Norvegia, Polonia, Spania, Olanda sau Belgia, dupa ce anul trecut la Wacken Open Air, cel mai mare festival de metal din Europa, showul a fost vazut de peste 75.000 de persoane.
"We are doing this because we were all a family and when a family has lost their beloved family member, they try to keep the memory of their lost beloved one alive. That is the spirit behind all that we do. When we perform on this tour, for me, it is a memorial service in the form of a rock concert. … This gives fans a chance to experience Dio live without relying on the poor-quality videos on YouTube.", a declarat chitaristul Craig Goldy pentru revista Rolling Stone.
Biletele se gasesc in format electronic pe www.iabilet.ro si in reteaua fizica iabilet.ro/retea : Magazinele Flanco, Metrou Unirii 1 langa casa de bilete Metrorex, Magazinul Muzica, Expirat Halele Carol (in intervalul orar: 18:00-22:00), Magazinele IQ BOX - Telekom, Cafe Deko, Club Vintage, Club Quantic, Hard Rock Cafe, Beraria H, Agentiile Perfect Tour, Magazinele Uman si pe terminalele self-service ZebraPay din toata tara la urmatoarele preturi:
-PRESALE: 95 Lei Acces General, 119 Lei Golden Circle - pana pe 17 decembrie -LA INTRARE: 110 Lei Acces General, 140 Lei Golden Circle - in limita biletelor disponibile Se pun in vanzare doar 300 de bilete Golden Circle, in fata scenei. Capacitatea pentru acest eveniment va fi limitata la 1500 de persoane.
Daca vreti sa ajungeti la acest eveniment, tot ce trebuie sa faceti e sa lasati un comentariu mai jos in care sa ne spuneti in ce trupe a cantat Dio de-a lungul carierei sale. Concursul incepe astazi si se incheie pe 15 decembrie, cand anuntam si castigatorul.
START!
UPDATE: Castigatorul este George, nr 13. Detalii ai pe mail.