Elliphant, una dintre cele mai cool artiste din 2013 vine in concert pe 25 ianuarie. I-am pus 5 intrebari si avem 5 raspunsuri foarte sincere in care am incercat sa aflam cateva lucruri esentiale despre ea.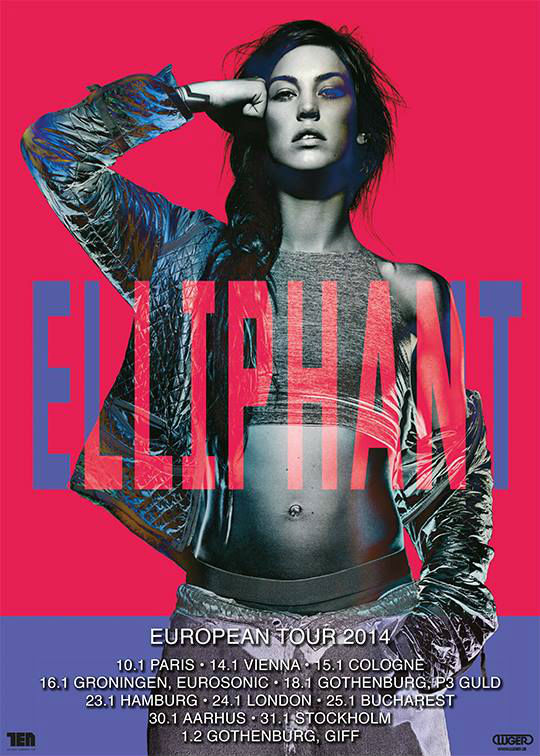 1. Your music is so out of the box. You call it "provocative pop" but what are the main music genres that influence you because you mix a lot of them and it has a lot of groove.
It is just inspired by all different types of music. It's impossible for me to say that one is more inspiring than any other.
2. The last 12 months were a continuous ascending stair for you. How long have you waited for this to happen?
I'm very much in the moment In my life. I realized that I always longed for the beauty of working together with other people to make reality of visions and dreams. I never realized before how powerful you can be if you just let people in and let them help you. I always wanted to have big projects that could reach out to many people. It turned out to be music and I'm glad. Because through music you can explore so many other ways of expression. Music is a very dimensional thing these days and that's very exciting. I have a crew and we work together in the same direction – and I think it took me a lifetime for me to find that.
3. Do you feel like "A good idea" embodies everything that you stand for as a musician or are there any subjects and stories left to tell for a next record also?
Yes, for sure! There's always new stories to tell. And I think many of my songs have different stories inside. Many of my songs just touched the surface of different subjects. The whole album is living in a very playful and sometimes even confusing way, I guess. It's very much reflecting the way I have felt during the period making the album in my personal life. I know that I have big problems really letting people in – but I am loud, and I'm laughing, and I'm happy. So no one really questions it. I think I will become braver in my writing in the future, holding on to a red thread, and not letting go of it. That will happen in symbioses with me – if it's like a smashed windows its because I am a smashed window. Or if it's like a breeze it's because I am a breeze. That's how Elliphant works.
4. How is it like working with Dr.Luke for something other than the ultra-commercial pop music that he's well known for?
To work with Dr.Luke has been a very good experience. We made different types of songs and he's been working as a director of Elliphant in those sessions. But he has been very humble in that. And I never felt like I lost my real or my expression. I always look forward to work with him, actually.
5. Have you been to Eastern Europe and if yes, how do you see this part of the world because it's quite different than Sweden or Bangkok.
I haven't spent so much time there, no. And when youre on tour you move pretty quick and don't get to see so much. But I think the vibe this far has been super inspiring and the crowed that came out to see my show has been very loving.
RotoPerCutoR si YellLow sunt numele autohtone ce i se vor alatura lui Elliphant pe afisul primei editii Deck Sounds. Party-ul ce va avea loc pe 25 ianuarie, in Atelierul de Productie - detalii AICI!
Ne vedem sambata in Atelierul de Productie?