Fix in ziua in care toate zvonurile indica faptul ca formeaza un cuplu, Ariana Grande si Big Sean lanseaza colaborarea R&B "Big Mistake". Desi nu e foarte energica, crezi ca ar putea acelasi efect precum PROBLEM?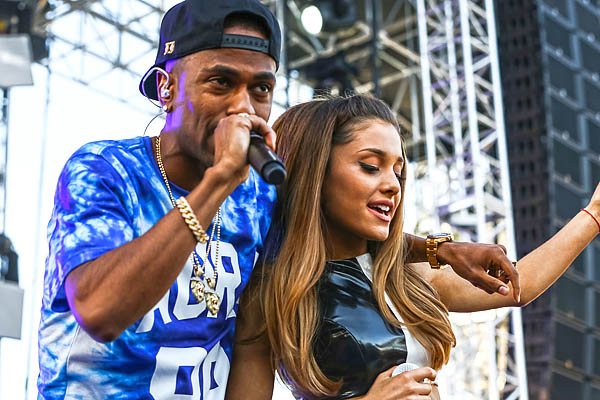 Cu doua saptamani inaintea lansarii albumului "My everything", Ariana Grande continua sa lanseze trackuri noi si vine cu un colaborator frecvent, bun prieten si iubit, sustin unii. Big Sean o ajuta pe Ariana pe "Big Mistake".
Piesa Arianei este despre despartire, despre dragoste si are un beat seducator R&B, mult mai slow decat "Problem" sau "Right There", cele doua hituri care au propulsat-o pe Ariana in topuri si in ochii tinerilor.
Coincidenta sau nu, piesa a aparut la cateva ore dupa ce televiziunea mondena E! News a prezentat un material care dezvaluie faptul ca Ariana si Big Sean sunt impreuna ca un cuplu, fiind surprinsi sarutandu-se la un cinematograf zilele trecute. Sa fie vorba de o controversa menita sa vanda acest nou cantec si noul album. PLAY!
Versuri Ariana Grande & Big Sean – Best Mistake
[Verse 1: Ariana Grande]
As soon as we forget how we felt
Dealing with emotions that never left
Playing with the hand that we were dealt in this game
Maybe I'm the sinner, and not a saint
Gotta stop pretending what we ain't
Why we pointing fingers anyway? We're all the same

[Pre-Chorus: Ariana Grande]
Break up, make up
Total waste of time
Can we please make up our minds?
And stop acting like we're blind
Cause if the water dries up
And the moon stops shining
Stars fall, and the world goes blind
Boy you know I'll be savin' my love for you, for you

[Chorus: Ariana Grande]
Cause you're the best mistake I've ever made
But we hold on, hold on
There's no pot of god at the rainbow, sweet Jesus
But we're holding on, hold on

[Verse 2: Big Sean]
I guess times wasting, tick tocking lip locking
How do we keep the feelings fresh how do we zip lock them
Wear your heart up on your sleeves so watch for pickpockets
I guess to go the distance we might need to pit stop it
Hold on, hold love, I know love can be a beach with no shore
I done count to ten lost my temper and went back to four
I know sometimes it's hard to realize I'm the man that you need
I had a dream we branched out started a family tree
And I feel like everything we do is overdue
You asked why I love your mom so much 'cuase she's an older you
I wish you were happy I guess thats the one thing I should be providing
Ain't no number twos we both ones and ones the oddest
Couple only human except you, you a goddess
Only lying to you when I lie you down, just being honest
When you start as friends it's hard to say you're never going back
If I'm not the one then I'm the best mistake you ever had

[Pre-Chorus] + [Chorus]

[Outro: Ariana Grande (Big Sean)]
You're, you're, you're
(Best mistake you ever had, best mistake you ever had)
I be savin' my love for you, for you
You're, you're, you're
(Best mistake you ever had, best mistake you ever had)
I be savin' my love for you, for you
Intre timp, Ariana se bucura de inca un hit la radio si pe iTunes - "Bang Bang" cu Nicki Minaj si Jessie J a fost foarte bine primit de public si de critici deopotriva.
Ce zici de noua Mariah Carey, va avea impact si in Romania sau e prea R&B?